KC Steak Co. makes 'Royal' debut at grocer
We wrapped up a new project with The Kansas City Steak Company and the Kansas City Royals a few weeks back and the Business Journal just did a nice little write up on it. From the photography, typography and custom illustrations—this was really a fun assignment to figure out. Below is the article and a link to it is also at the bottom of the page.
_______________________________________
Kauffman Stadium and tailgating go hand-in-hand, so it's only fitting that The Kansas City Steak Co. has launched "Stadium Sizzlers."
The steakburgers and "baseball cut" top sirloin steaks' packaging capitalizes on a Kansas City Royals theme and boasts that they offer "club level flavor." They're also the company's first fresh product offering and are available in the butcher or meat department.
"These are the same KC Steak burgers enjoyed by thousands of fans at Arrowhead and Kauffman stadiums, so these products are a way to bring home a taste of the game," Marcy Johnson, director of brand marketing for the Kansas City, Kan., company, said in a release.
The new products are available exclusively at Kansas City-area Hy-Vee stores, as well as stores in St. Joseph and Lawrence. Kansas City Steak Co. hopes to release a Kansas City Chiefs version later this year.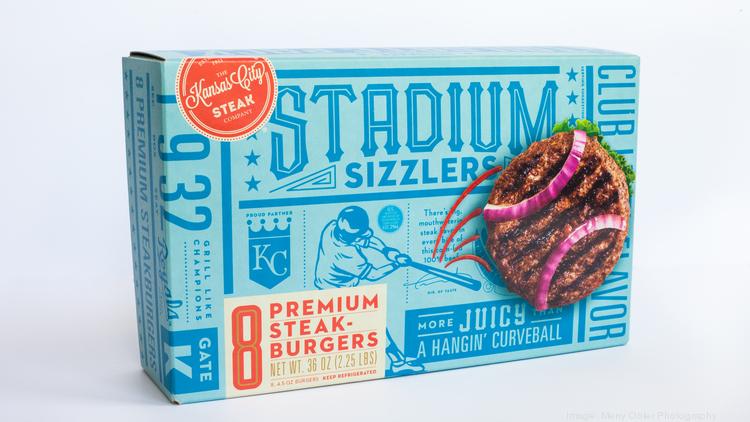 This isn't the first time that the long-standing gourmet steak company has capitalized on its relationship with the Royals. Last year, it launched the "Steaks with HOS" campaign which tapped into the popularity of first baseman Eric Hosmer, who won the MVP award at Major League Baseball's 2016 All-Star Game. The campaign's grand prize gave the winner and nine friends the opportunity to have a cookout with Hosmer at the winner's home.
The company launched a similar campaign for this year's Father's Day, which gave five lucky winners a steak dinner with Hosmer and his father, Mike Hosmer.
- Leslie Collins, Reporter (Kansas City Business Journal)
 http://www.bizjournals.com/kansascity/news/2017/06/26/kansas-city-steak-...